Surface Salinity Meter
Compliant with PSPC, NACE SP0508-2010, and ISO-8502-9 for soluble salt measurement
Model Surface Salinity Meter
A simple method for checking surface salinity of steel surfaces prior to painting.
Steel structures require careful preparation prior to painting. The Model SSM-21P enables easy verification of the surface salinity. It is used in the fabrication of steel structures such as ships, bridges, storage tanks etc.. The measurement is performed simply and directly in real time. This has the advantages of excellent measurement accuracy and improved efficiency for preparation work for painting.
The use of this instrument will improve the reliability of test results and increase the overall efficiency of the preparation and painting processes.
The Surface Salinity Meter provides measurements equivalent to ISO 8502-9 (the Bresle Patch Method) as tested by an independent laboratory in accordance with NACE SP0508-2010.
Features
Surface salinity (mg/m2) can be directly read in four formats
Soluble salt concentration (PSPC mode)
Soluble salt concentration (normal mode)
Sodium Chloride concentration
Conductivity of solution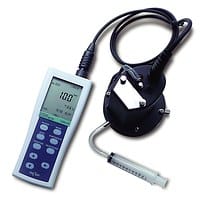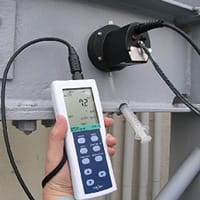 Automatic Temperature Compensation
ATC (automatic temperature compensation) converts the measurement to the value at 25 deg C.
Measurement is performed in-situ
No sample collection or removal is required. The measuring cell is placed on the steel surface and held in place by a magnetic base. Pure water is injected into the measurement cell using a disposable syringe and the measurement result obtained. No more cumbersome washing and collection activities.
No need for adhesive patches as used in other methods
The measuring cell features a magnet base that provides easy attachment to the steel surface to be checked. No more sticky residues left on the steel surface as with other, old fashioned, procedures such as the Bresle Method.
Portable Instrument
Lightweight and compact size provides excellent portability allowing the meter to be easily carried around and used wherever required. Data memory allows for 300 data points to be recorder.
Connection to Peripheral Devices
The meter includes an interface for connection to external peripheral equipment such as printers, personal computers, etc. Software is available for data download to a PC is spreadsheet format. (peripheral equipment available separately for additional cost).