Multiple Sample Changer Turntable TTT-710
Continuous and automatic multiple-sample measurement capability.
Continuous and automatic measurement of up to 100 samples possible
4 types of tables (for 12, 18, 36 and 60 samples) are available for a wide range of purposes.
Also, a 100-sample table is available as a factory-installed option.
Easy maintenance
Electrode cleaning tank and electrode storage tank are placed on the front of the unit.
This enables easy maintenance of tubes, electrodes, etc.
Wide-range of electrode cleaning modes available
Pure water shower cleaning comes as a standard feature.
Chemical cleaning, bubbling cleaning, and air blow modes are also available as optional features.
Analyzer mount for extra space-saving (optional)
A dedicated analyzer mount is available for space-saving installation of the unit, includes analyzer.
(Mounts are available in 2 types – one for R-series and another for automatic titrators.)
Turntable with a thermostatic tank (factory-installed option)
Multiple-sample measurement at a constant temperature can be performed (The circulation-type thermostatic tank that can be externally added to a system must be purchased separately.)
Next sample stirring function (factory-installed option)
The instrument can prepare the next sample to be tested by stirring the sample in advance.
This function helps when it takes a long time for the sample to mix or react with reagents properly.
Supported models include: pH Meter HM-30R, Conductivity Meter CM-30R, Multi-function Water Quality Meter MM-60R, Automatic Titrator AUT-701, Acidity Titrator TA-70, Salinity Titrator TS-70, Potentiometric Titrator TP-70 and Automatic Burette ABT-511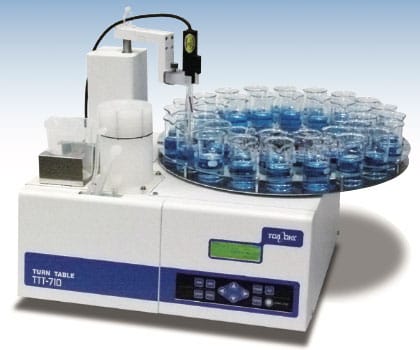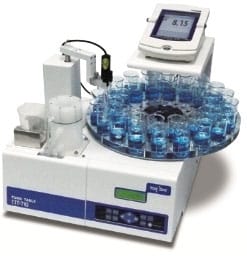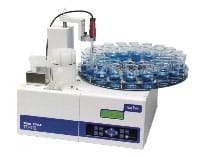 ---
The instrument can be added to various systems
Multiple-portion pH/conductivity measurement system using the Multi-function Water Quality Meter MM-60R capable of simultaneously measuring multiple portions of one sample for pH and conductivity.
Dual automatic titration system for multiple samples using the Automatic Titrator AUT-701 capable of performing two different types of titration on multiple samples.
Reagent dispensing system to multiple samples that uses the Automatic Burette ABT-511 capable of fixed rate continuous dispensing of reagents to multiple samples.
---
Standard Accessories
Display
LCD
Number of samples / Beakers used

12 samples 200mL beaker, 300mL tall beaker (Our recommendation: Glass beakers manufactured by AGC TECHNO GLASS CO., LTD. or HARIO CO., LTD.)
18 samples 100mL tall beaker (Our recommendation: Glass beakers manufactured by AGC TECHNO GLASS CO., LTD. or HARIO CO., LTD.)
36 samples 30mL beaker, 50mL tall beaker (Our recommendation: Glass beakers manufactured by AGC TECHNO GLASS CO., LTD.)
60 samples 20mL dedicated beaker (H-20 beaker manufactured by NICHIDEN RIKA-GLASS CO., LTD.)
100 samples 20mL dedicated beaker (H-20 beaker manufactured by NICHIDEN RIKA-GLASS CO., LTD.)

Stirring method

Standard: Magnetic stirring
Option: Propeller stirring

External control input/ output

For RS-232C (R-series, AUT-701/AUT-501,TA-70/TS-70/TP-70)
Input/output for OPTION2 (R-series, G-series)
Input/output for automatic burette ABT-511 and ow comparison unit FAR-201A
Input/output for external control box
Output for air pump box
Input for liquid level sensor signal (cleaning water 1, waste water)
Output for over-head stirrer unit power

Cleaning mode

(1)Pure water shower → Air blow
(2)Pure water bubbling → Pure water shower → Air blow
(3)Chemical shower → Pure water shower → Air blow
(4)Chemical bubbling → Pure water shower → Air blow
(5)Chemical bubbling → Pure water bubbling → Pure water shower → Air blow
(6)Chemical bubbling → Chemical shower → Air blow
(7)Chemical shower → Air blow
(8)Chemical bubbling → Pure water bubbling → Chemical shower → Air blow


Note:
Air blow cleaning is available when the optional air pump box is installed.
Chemical cleaning is available when the optional external control box and chemical pump are installed.
Bubbling cleaning is available when the optional air pump box and waste water valve are installed.

Cleaning time
0-9999 seconds
Air blow frequency
1-9 times
Measurement repetitions for same sample
1-9 times
Detection of final sample
Possible by using completion detection pin or defining the final sample number by key operation
Cleaning tank material
Polypropylene
Stirring time before measurement
0-9999 seconds
Waiting time before measurement
0-9999 seconds
Liquid level alarm

Cleaning water 1 (pure water): Empty
Cleaning water 2 (chemical liquid): Empty (when the optional chemical liquid level sensor is connected)
Waste water: Full

Performance- guaranteed temperature
5-40°C
Power requirements
100-240VAC, 50/60Hz
Power consumption: Standard

When 100VAC is applied: Approx. 60VA at the maximum
When 240VAC is applied: Approx. 90VA at the maximum

Power consumption: When optional is connected

When 100VAC is applied: Approx. 100VA at the maximum
When 240VAC is applied: Approx. 130VA at the maximum

Dimensions

Main unit (not including table) Approx. W440 x H409 x D391mm
When table is attached Approx. W566 x H409 x D507mm
Maximum dimensions when in operation Approx. W566 x H534 x D507mm

Weight of main unit
Approx. 16kg (Not including table and electrodes)
---
Standard Accessories
Table (Specify either for 12, 18, 36 or 60 samples)
Electrode cartridge (Specify a suitable type depending on the number of samples/purpose)
Cleaning water tank (10L, with liquid level sensor)
Waste water tank (10L, with liquid level sensor)
Cleaning water tube (3m)
Waste water hose (1.5m)
Completion detection pin
Power cord
2P-3P conversion adapter
Disposable beaker
Operation manual
---
Options
| Product | Code No. |
| --- | --- |
| Turntable connection cable (2m) Serial control cable for connection to HM-30R, CM- 30R or MM-60R | 118C087 |
| Turntable connection cable (2m) Cable for connection to AUT-701, TA-70, TS-70 or TP-70 | 7075670K |
| OPTION2 connection cable Analog control cable for connection to R-series/ G-series | 7401740K |
| ABT-511 connection cable | 7401750K |
| FAR Connection Cable | 7401760K |
| Air pump box (for air blow) | 7400560U |
| Air pump box (for air blow and bubbling) | 7401640U |
| Waste water valve for TTT-710 (pinch cock) | 7401650U |
| Waste water valve for TTT-710 (solenoid valve) | 7401660U |
| Propeller stirring unit (for table for 12 or 18 7401670U samples) | 7401670U |
| Propeller stirring unit (for table for 36 samples) | 7401680U |
| Propeller stirring unit (for table for 60 or 100 7401690U samples) | 7401690U |
| Analyzer mount (for R-series) | 7401700U |
| Analyzer mount (for AUT-701) | 7401710U |