pH/ORP Wall mount, 160 Series
The HBM-160/HBM-162 is a field installation type pH/ORP analyzer (transmitter) that is housed in a robust, die-cast aluminum enclosure. The unit runs on a universal AC power supply with automatic voltage regulation (90~264VAC), is equipped with a digital display screen, and provides a number of practical functions.
Features
Multi-function pH/ORP analyzer for field installation in a compact aluminum diecast enclosure
One-touch calibration and various self-diagnostic functions
2-point contact signal and 2-channel output including temperature (RS-232 optional)
Power supply: AC90~264V, 50/60Hz
Measuring range
pH meter (HBM-160) : pH -1 - 15
ORP meter (HBM-162) : ORP -2000 - +2000mV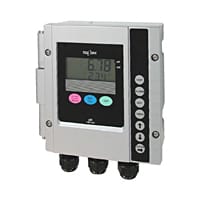 ---
Overview
The unit features a dual transmission output (4~20mADC) for pH (ORP) and solution temperature. The output range for the pH (ORP) and solution temperature can be set to a value within the prescribed range. Note that the 2 output circuits share a common negative terminal.
The unit is equipped with an internal memory, which can store the data for up to 5 different pH standard solutions. The unit also features an electrode with a built-in temperature sensor that eliminates the hassle of inputting information such as the solution values and temperature during calibration. In addition, the stability judgment function allows for accurate, operator-error free calibrations using standard solutions. (HBM-160)
The transmitter judges the quality of electrode characteristics based on calibrations performed with standard solutions (HBM-160) or ORP check solutions (HBM-162).
Equipped with a function for detecting cracks in glass electrodes. (HBM-160)
In addition to compensating the temperature of the electromotive force applied to the glass electrode, the transmitter can also convert (compensate) the reference temperature for the pH value of a sample solution. When converting the reference temperature, the pH temperature coefficient of the sample can be specified. Thanks to these features, the transmitter can also be used for the measurement control of boiler water and other similar liquids. There is also a function for manual temperature compensation. This function makes it possible to compensate the temperature for electrodes with a temperature compensation resistance that falls outside the specifications (1kΩ at 0°C, or 10kΩ at 25°C), as well as for electrodes that are not equipped with a temperature compensation resistor. (HBM-160)
In maintenance mode (ST-BY), the transmission output can be held at the value immediately before switching modes. The alarm contact output is disabled in this mode, ensuring that there are no disruptions to the control system.
The unit can also be configured to automatically switch back to measurement mode after a specified amount of time has passed. This feature is especially convenient for when you forget to disable maintenance mode.
In addition, when combined with a cleaner equipped with a built-in timer, the transmitter receives command signals from the cleaner. The forms of output operate as described above .
2-point alarm contact outputs are equipped a standard (form C contacts (transfer contacts)). The output range can be set to a value that falls within the pH (ORP) measurement range.
Optional Features
Ability to use together with cleaners that are not equipped with a timer function, such as the RHC-7E, JHC-7E, and PHCG-7D. (The transmitter is equipped with a power supply and built-in timer.)
4-point alarm contact outputs: 3 circuits with form A contacts (make contacts), and 1 circuit with contact c.
Ability to issue a power cut-off signal (closed contact) when a power failure occurs. (Cannot be used together with 4-point alarm contact outputs.)
Data transfer to a computer via a RS-232C interface (exclusive cable would be needed separately).