Residual Chlorine Meter, Low range, 0-2ppm
A portable, easy to use meter for free chlorine measurement using the innovative polarographic sensor technology. Reagent and membrane free! Real time or grab sampling type.
The Residual Chlorine Meter, Low range, 0-2ppm provides a quick and easy measurement of free residual chlorine by the use of a polarographic sensor. The measurement can be achieved without the inconvenience and human errors associated with conventional reagent based portable instruments.
The New RC-31P has an expanded memory allows for the storage of 1000 results, upgraded software control program and the ability to use rechargeable batteries.
It is unique to other conventional models in that it uses no reagents and no membranes but is very accurate when compared against DPD for potable water. It can be calibrated against the colorimetric or titrimetric procedures within seconds.
The operational cost is extremely low and maintenance is simple.
The meter consists of two sections, a handheld keypad and a sensor assembly. The key pad section features a large, easy-to-read LCD panel. The sensor assembly is available in two versions, a grab sampler type and float suitable for field and grab applications, and a flow through cell suitable for tap water outlets and continuous flowing samples.
The meter also indicates the sample temperature and includes a built-in-clock. The instrument can store one set of results (measurement, temperature and time) in memory for later retrieval. Power is provided by two standard AA batteries which have an operating life of up to 50 hours.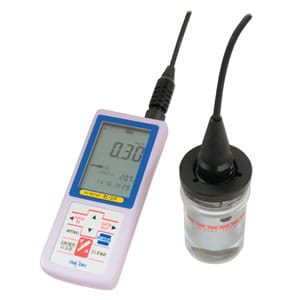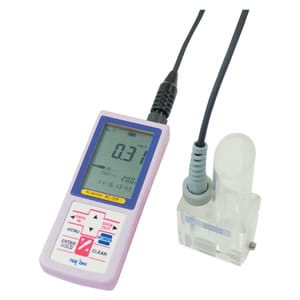 ---
Specifications
Measuring Method
Free chlorine by polarographic method, Amperometric detection
Indication
Digital display, residual chlorine, temp., and time simultaneous
Range:
Residual Chlorine : 0 to 2.00 mg/L
Temperature: 0 to 45 degrees C.
Repeatability
Residual Chlorine: +/- 0.05mg/L or less at 25C
Response time
Less than 90 seconds (at 25C)
Water Conditions
pH 5.8 to 8.0, Conductivity 8mS/m(80uS/cm) or more
Temp. Compensation
Automatic (0-45C)
Data Memory
Up to 1000 data sets
Calibration
by coefficient input method or correlation to alternate technique
Dual operating mode
Hypochlorous acid or Isocyanuric acid measurement
Interval Function
Data recording at selected time intervals (range; 1 second to 99.9 Minutes)
RS-232C Interface
Standard for printer or PC
Battery Life
Approx. 20 hrs. continuous mode(FCL-221CA), 70 hrs (CLS-221AA)
Power Source
2x AA cells or nickel hydride batteries, or AC adapter
Dimensions / weight
Main Body:68(W) x 35(H) x 173(D)mm / Approx. 280g
Sensor: 34 x 111mm / 160g
---
What is Residual Chlorine?
Testing for Residual Chlorine is very common in water treatment. The word, "residual", means remainder or that which is left. This test is made to measure the amount of chlorine remaining in the sample at the time the test is made.
For example, 2 ppm of chlorine may be added to a certain water. After a certain contact time, the test is made and indicates that 0.3 PPM chlorine is present. The 0.3 PPM is the chlorine residual. The difference between 2.0 PPM and 0.3 PPM, 1.7 PPM chlorine, was used during the contact time in oxidizing organic matter (bacteria, vegetative matter, sewage, etc.) in the water. This is known as the "chlorine demand" for that period of time. There is no chlorine demand in distilled water.
It is important to note that due to the chlorine demand, a chlorine residual test indicating sufficient chlorine at the plant does not necessarily mean that a test at the end of a main will indicate sufficient chlorine.
There are a number of materials in the lines which can use up the chlorine, such as iron bacteria or foreign matter.
This meter measures "free" chlorine as opposed to "combined" chlorine. Combined chlorines are usually weaker disinfectants and found in systems when ammonia is added to form monochloramine, dichloramine, and trichloramines. This is often done to minimize the amount (DUe to EPA regulations) of trihalomethanes and other organic byproducts that are formed with chlorine in the water.
Total chlorine is the amount of both free and combined chlorine in the sample.
DKK-TOA's Model RC-31P is portable and can be easily brought to and used at end of distribution points.
---
Ordering Information for RC-31P
| | |
| --- | --- |
| RC-31P-F | Portable Residual Chlorine Meter with std accessories - grab sampler |
| | Portable meter complete with digital LCD display. Standard cell includes Electrode FCL-221CA. Meter complete with sensor, measuring container(ODG00003), Continuous measuring beads cleaning kit(OIZ00005), Float Assembly, cathode polishing paper, cathode wiper, hand strap, vinyl case, instruction manual and batteries. |
| RC-31P-Q | Portable Flow Thru type Residual Chlorine Meter with std accessories |
| | RC-31P Portable meter complete with digital LCD display which measures Residual Chlorine. Includes Flow cell and electrode CLS-221AA. Meter complete with sensor, measuring cell, cathode polishing paper, hand strap, vinyl case, instruction manual and batteries. |
---
Accessories and Consumables for the RC-31P
| | |
| --- | --- |
| CLS-221AA | Residual Chlorine Electrode for "Q" type city water tap, hydrant, etc. with calibration memory function, 1 meter cable. |
| FCL-221CA | Residual Chlorine Electrode for "F" type, Toss in type (sampling) with calibration memory function, 1 meter cable. |
| ODG00004 | Measuring cell for CLS-221AA Electrode |
| ODG00003 | Measuring Container for FLS-221CA Electrode (6542710K) |
| 6288300K | Maintenance kit, DPD check set and electrode cleaning agent |
| OLZ00001 | Electrode polishing Paper |
| OLZ00002 | Wiper for cathode |
| 628880K | Float Assembly |
| EPS-P30 | External Printer, 60mm regular roll paper. |
---
Options for RC-31P
| | |
| --- | --- |
| 01Z00005 | Beads polishing Kit for Continuous measurement |
| 123G007 | Ceramic Beads, pack |
| 118N062 | RS-232C connection cable, 2M, D-sub9P ( 2m) |
| FCL-240AA | Electrode for pool water using dichloroisocyanuric acid or for sample with high combined chlorides. (platinum) |
| 137C401 | Plastic Carrying Case |
| GLOG2-P | Data Acquisition software |