Ozone Meter, Dissolved or gas phase
The OZ-20 Ozone meter is for dissolved ozone measurement in water. The OZ-30 Ozone meter is for measurement of ozone in a gas phase.
These units use a polarographic membrane type technique for measuring so that reagents are not required for analysis.
Ozone is used primarily for disinfection purposes and the concentration needs to be accurately measured and monitored since it is considered a hazardous material.
These meters can be field operated. The LCD display shows all appropriate parameters and an easy to follow calibration procedure. Calibration is generally done by air or iodine titration.
Features
Accurate Measurement
3 selectable ranges
Easy calibration with air.
Moisture proof unit.
Excellent stability for long periods of time.
Flow cell option for online applications or increased accuracy
Rugged compact sensor with standard 2 meter cable.
Equipped with an outlet for a recorder as standard accessory.
AC/DC Power Source Selection.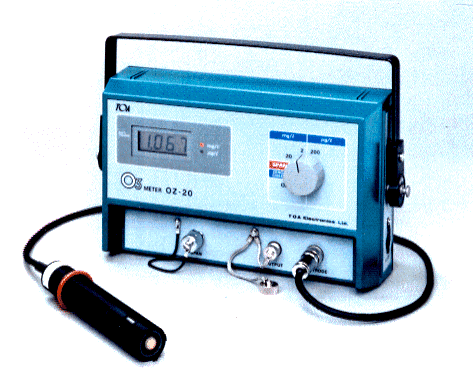 ---
Specifications
Measuring Method
Polarographic Membrane Type
Indication
LCD Display
Range:
OZ-20: 0 ug/l to 20 mg/l , 3 ranges selectable (0-200ug/l, 0-2mg/l, 0-20mg/l)
OZ-30: 0 g/m3 to 200 g/m3, 3 ranges selectable (0-2, 0-20, 0-200g/m3)
Response:
OZ-20: (0-199.9ug/l, 0-1.999mg/l, 0-19.99mg/l)
OZ-30: (0-1.999, 0-19.99, 0-199.9g/m3)
Response:
90% within 30 sec. at 25 C.
Temperature Compensation
Automatic
Temp range of solution
5-45 degrees C.
Repeatabilty
+/- 2% +1digit at full scale (at const. temp.)
Analog Output
0 - 1 V at each range, 0-full scale
Power Source
6x "C" cells or AC adapter (option)
Dimensions / weight
Main Body: 250mm(W) x 160(H) x 95(D)
Approx.: 2.1 Kgs
Sensor: 25(diam) x 147mm(L)

---
Standard Accessories
| | |
| --- | --- |
| Dissolved Ozone Sensor, OZE-2202 for OZ-20 or OZE-2203 for OZ-30 | 1 pce |
| AC Adapter, 110 VAC, YD-12 | 1 pce |
| Analog output cable DO-1L | 1 pce |
| Shoulder Belt | 1 pce |
| Batteries (UM-2) "C" cells | 6 pcs |
| Instruction Manual | 1 copy |
---
Main Unit Ordering Information
| | |
| --- | --- |
| OZ-20-0-S | Ozone Meter, Dissolved or gas phase for Dissolved Ozone |
| | Portable meter with digital LCD display which measures Ozone. Unit comes complete with sensor (OZE-2202 2m cable), shoulder belt, manual, AC adapter and batteries. |
| OZ-30-0-S | Ozone Meter, Dissolved or gas phase for Gas Phase |
| | Portable meter with digital LCD display which measures Ozone. Unit comes complete with sensor (OZE-2203 2m cable), shoulder belt, manual, AC adapter and batteries. |
---
Accessory and Consumable Information for OZ-20
| | |
| --- | --- |
| OZ-1FL | Flow Cell. 0.1 l/min to 2 l/min, under 5Kg/cm2 G, SUS316 |
| DO-C-30 | Carrying Case |
| OZE-2202 | Ozone Electrode for OZ-20 |
| OZE-2203 | Ozone Electrode for OZ-30 |
| ZCT-2030 | Ozone Electrode Membrane Cartridge (5/pcs/box) |
| R-8 | Electrolyte solution for Ozone Electrode (50ml) |
| | Polishing Paper for working Electrode |
| | Polishing Paper for counter Electrode |
| P-24 | O-ring |
| S-16 | O-ring |